In the competitive online world, using varied marketing techniques is essential if you want to increase brand exposure and improve the site's ranking and traffic. As such, one technique that has proven to be quiet successful in recent times is the use of WordPress Social Content Locker plugins for blog posts or any other custom type posts/pages.
These plugins have gained a considerable amount of popularity among bloggers. The reason being that these plugins allow you to lock specific content, which can only be unlocked when the visitors fulfill a specific task set by the blogger - be it liking, sharing, or tweeting a blog post or signing up for newsletters.
Simply put, these plugins help you to increase your website's social likes, shares, & followers and it assists you in building a robust email list.
Thus, with the numerous Social Content Locker plugins available online, we understand that choosing the right one can be a challenge. As such, to make this task easier for you here is the list of best WordPress Social Content Locker plugins that you can pick from.
Content Locker Pro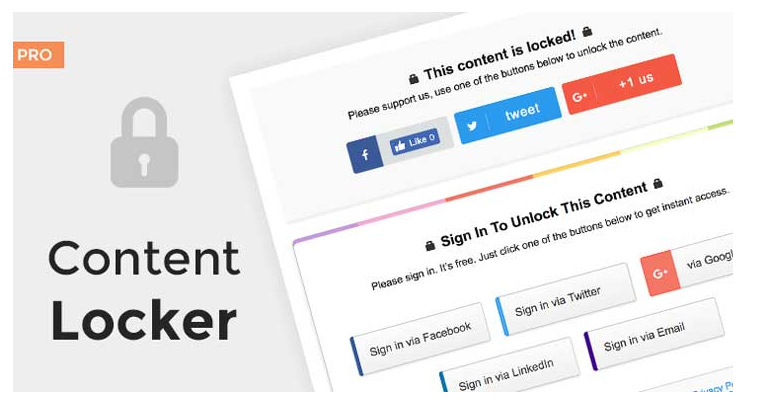 The Content Locker Pro plugin is a premium WordPress plugin which is widely popular and provides you with sixteen predefined locker designs. This plugin is easy to use and with two different locking patterns, you can use this plugin for both - increasing your social media likes and shares or for generating email subscribers.
This plugin is also light-weight and mobile-friendly and comes with advanced features that will help you to track the performance of each blog post. Moreover, this plugin is compatible with all free and premium WordPress themes and it can be easily integrated with popular applications like MailChimp, AWeber, Getresponse, etc.
WordPress Content Locker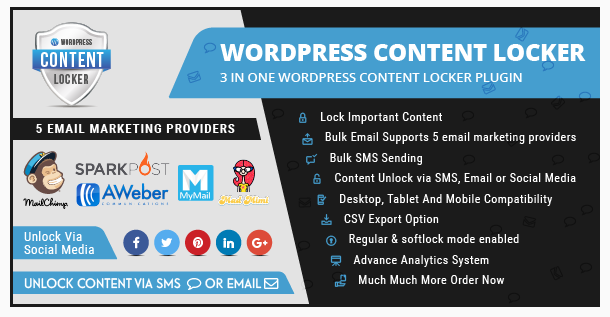 An easy to install and use a plugin, the WordPress Content Locker plugin offers you an array of features that are truly remarkable. This plugin will help you to grow your email list as well as help you to boost your site's visibility on social media. In addition, other than the usual Facebook, Twitter, and Google+ social accounts, this plugin also gives users the option of unlocking the content via LinkedIn, Pinterest, Instagram, and more.
The features included in this plugin are - an advanced analytic system, bulk SMS, CSV export option, and others. It can be easily integrated with Mail Chimp, Spark Post, My Mail, AWeber, and Mad Mini. Your visitors also have the option of accessing your content via email, SMS, or social media. Plus, since this plugin is mobile-friendly it ensures that your site's page speed and performance is not affected in any way.
Easy Social Locker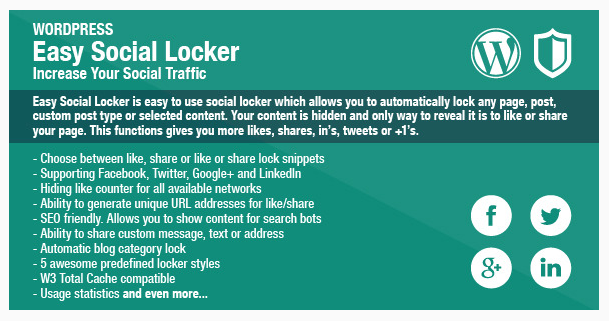 As the name suggests, this is an easy to use locker plugin that comes with 5 amazing predefined locker styles and allows you to lock any page, post or selected content. It supports 4 social media platforms - Twitter, Facebook, LinkedIn, and Google+. Additionally, it is cache-friendly and ensures that search engine robots can easily index all lock pages/posts without any interference.
With the option of creating unique URL addresses for like and share, this plugin also allows you to easily track social activities, thus offering you measurable data which can help you to make changes to your marketing campaigns. In addition, this plugin allows you to lock any type of content be it written, images, videos among others.
OnePress Social Locker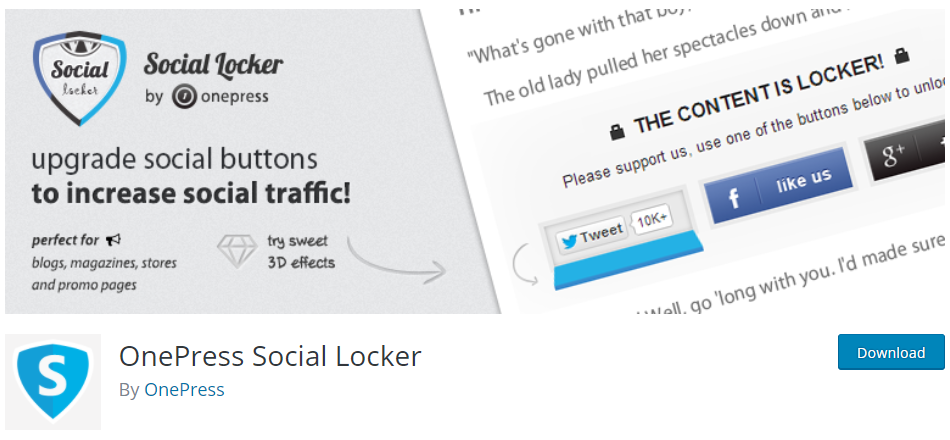 One of the best plugins that will help you to increase your social media followers, this is a free Content Locker plugin by OnePress that provides you with 3 social buttons - Facebook Like, Twitter Tweet, and Google +1.
This plugin is SEO-friendly, offers you 4 different types of lock options via shortcodes, and comes with impressive locker designs that are sure to grab the attention of your visitors. Optimized for mobile, this plugin offers you some customization options. Plus, it comes with built-in analytics that helps you to track the performance of your blog post.
A great plugin for beginners, this plugin also provides you with a CSV export option, thus making it an all-in-one social locker plugin that'll help you to boost your social media traffic.
Opt-In Content Locker for WordPress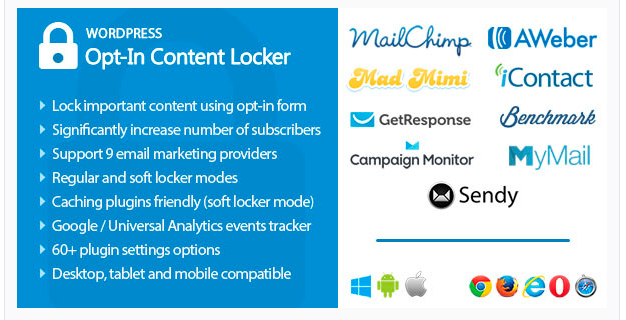 Our list of the best WordPress Social Content Locker plugins for 2018 wouldn't be complete without mentioning the Opt-In Content Locker plugin.
This plugin is easy to install and is cache-friendly and apart from helping you to lock the content via the locker mode, this plugin is also a great tool through which you can increase your email subscription via gated content.
Supporting multiple email marketing applications like MailChimp, AWeber, GetResponse, iContact, and more, this plugin offers you features such as 60+ plugin setting options, inbuilt analytics, CSV export, and much much more. Thus, if you are looking for a premium locker plugin that offers a lot of customization and locks pattern option then this is one of the best locker plugins to consider.
Social Content Locker for WordPress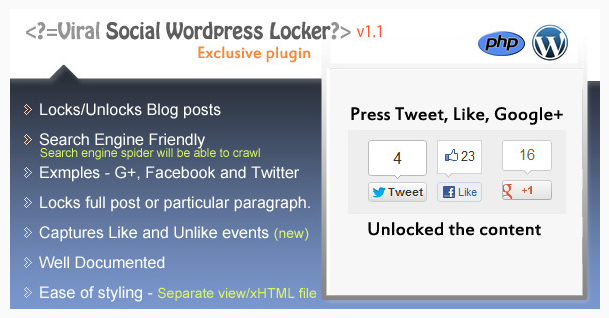 Another premium plugin, the Social Content Locker plugin offers you the option of locking the entire blog post or a section of it. To unlock the blog post, a visitor needs to share your post on different social platforms or like your site's Twitter, Facebook, or Google+ page.
This plugin is easy to integrate with your WordPress website and is highly customizable and it ensures that search engine crawlers are able to index your blog post efficiently despite the content being locked. An extremely user-friendly plugin, this locker plugin is best for those who just want to increase their site's social likes, shares, and followers.
Social Video Locker for WordPress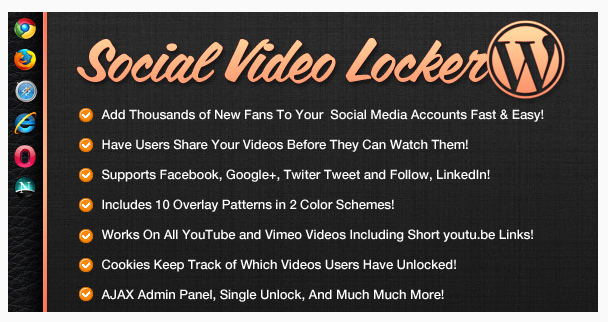 An effective premium plugin, this locker plugin is best for those who have a lot of video content on their website. By simply setting your videos to locker mode, you are ensuring that your videos get viral at a faster rate as visitors who are interested in viewing it would be willing to share it if they want to watch.
This plugin offers 10 different overlay image effects along with 2 color schemes and includes an optional animated close button for further styling and effect. A simple dynamic plugin, the Social Video Locker plugin also provides you with the option of using a timer, wherein, the videos play automatically after a set time and it supports social channels like Facebook, Linked In, Google+, and Twitter Tweet and Follow.
Conclusion
As a means through which you can boost your site's social media traffic and increase social likes, shares, and followers, the social content locker plugin can be extremely beneficial to all - startups and small businesses alike. These locker plugins also provide you with the added benefit of helping you generate quality leads and building an effective email list. Thus, take your pick from the best social media locker plugins for 2018 and install it today on your website in order to improve your site's overall organic traffic and ranking.
About Author
Nirav Dave is the CTO & Co-Founder at Capsicum Mediaworks, a digital agency based out of Mumbai, India that specializes in all things Web Design & WordPress. He Worships WordPress and Loves to read anything and everything about this exceptional CMS.